A1 Roofing Sutton: Professionally Handling Roof Leak Repairs In Sutton
Are there blotches and discolorations on your walls and ceiling as a result of water leaks from your roof in Sutton? Your roof probably has a leak. You can contact the roof specialist team of A1 Roofing Sutton on 020 3633 6891 to enjoy expert roof fixing services. Roof leaks can be worrisome to a resident or Sutton property owner. Leaky roofs should not be overlooked, neither should its maintenance be postponed, as it can give rise to moulding, rotten frames, and sheathing in Sutton. It can lead to mutilation in the insulation and even the ceiling. Our professional services operate round the clock to fix leaking roofs. Call A1 Roofing Sutton now on 020 3633 6891.
Our Guarantee
---
Free site visit and survey
No hidden costs
British standards compliant
Fully Insured
Clean and efficient
Professional workmanship
Profile Of A1 Roofing Sutton: Providers Of Professional Roof Leak Maintenance Services In Sutton
A1 Roofing Sutton is renowned across the UK for delivering high quality long lasting solutions to roofing problems. If your roof has been hit by a storm and is damaged, A1 Roofing Sutton can offer you rapid roof leak repair services. We assure you of excellent and premium services at competitive rates. Whatever the range or coverage of the roof repair services required in Sutton; whether home repairs or industrial standard maintenance, we can deliver.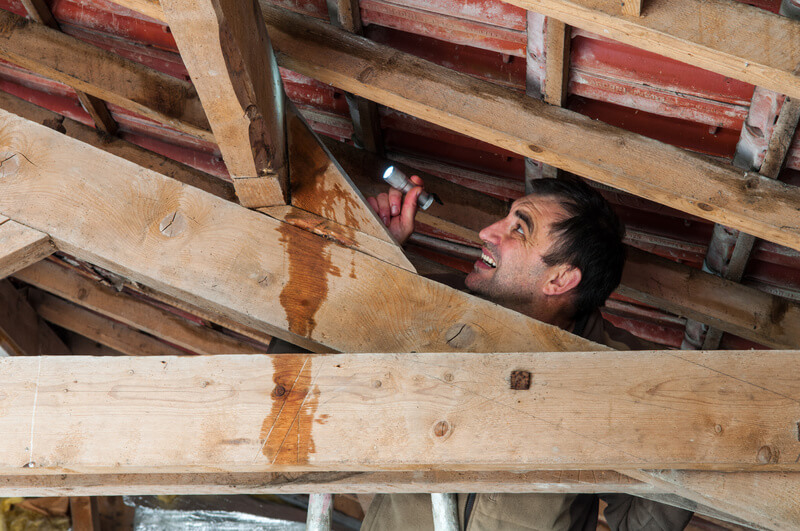 A1 Roofing Sutton provide professional services for roof leaks, and also cater for any existing faults in your roofing system, such as missing or broken tiles and slates, poor functioning gutters, problems with fascias etc. A1 Roofing Sutton have over a decade of experience in providing high quality and bespoke roofing solutions to tenants, landlords, and estate developers in Sutton. A1 Roofing Sutton have a team of thoroughly competent and highly trained professional roofing experts. They are equipped with the latest technology and follow the best practices in the profession. In addition to comprehensive industry certifications, A1 Roofing Sutton have insurance to cover our clients and ourselves throughout projects. A1 Roofing Sutton have developed a brand known for trustworthy and dependable roof fittings and maintenance servicesin Sutton.
Take Quick Action Against Any Hint Or Observation Of A Leaking Roof
We lend support and guarantee short or long-term solutions to leaking roof issues to make your home more secure and comfortable. A1 Roofing Sutton also offer replacement roofs with up to a 20-year guarantee for every new roofing material A1 Roofing Sutton supply and fit. A1 Roofing Sutton experts will assess the damage to your roof for free. Then, you will receive a detailed quote offering premium value.
Call A1 Roofing Sutton customer support team now on 020 3633 6891 to discuss your roof repairs. They will be happy to give you professional advice. You can also order a comprehensive estimate over the phone, or fill out A1 Roofing Sutton simple web forms and you will get feedback shortly. Call our friendly A1 Roofing Sutton customer support staff on 020 3633 6891 to book outstanding and durable leak repair services.
Do You Need Help ?
Call Us Now On
Observations That Signal An Urgent Need For Roof Repair Services For Leaks In Sutton
A roof leak is one of the commonest issues associated with roofing. Prior to identifying the real source of your leaky roof in Sutton, you have to get to terms with the most common causes.
Shifted Or Impaired Tiles Or Slates
On the other hand, if the underlay is repeatedly open to the force of powerful rainfall in Sutton, it could deteriorate and be incapable of performing at the highest levels of functionality. This would lead to a leaking roof. If rainwater forms a pool in the spot where the tiles or slates have slipped or got damaged, a leak is likely to happen in Sutton.
Errors In The Lagging Material Underneath
While you only see the tiles and slates on the exterior of your roofing system in Sutton, there's actually an underlay that is designed to divert rainwater that has forced itself through any gaps or cracks in the tiles or slates.
Impaired Roof Seams
Occasionally, your roofing service provider in Sutton may perform a substandard job, or the flashing at the junctions on the roof may have become damaged. Even the most trivial damage in Sutton can increase rapidly when a lot of water penetrates to this spot. It will most likely end up creating a roof leak.
All Types of Roofing Work Undertaken
Do You Need Help ?
Call Us Now On
Snow Clog Backlog
In areas that are known to have intense snowfall, the accrued weight of ice can spoil the roof in the long-term. As the ice melts, it will seep into the nooks created accordingly. Don't let the leaky roof ruin your day. Call A1 Roofing Sutton now, and let our experts fix it. A1 Roofing Sutton will get to the source of the leakage and stop it. Contact A1 Roofing Sutton warm, supportive, and experienced personnel, and they will graciously answer all your questions. A1 Roofing Sutton also provide you with a free, no obligation quote, and help you book a quick roof leak repair service.customersOur roofing brand is founded on the values of transparency, trust, and consistency. A1 Roofing Sutton have over 10 years of top-level quality work, with highly trained personnel, working tools, and full insurance and accreditation. Therefore, A1 Roofing Sutton continue to position ourselves to be the go-to experts for all roofing solutions in Sutton.